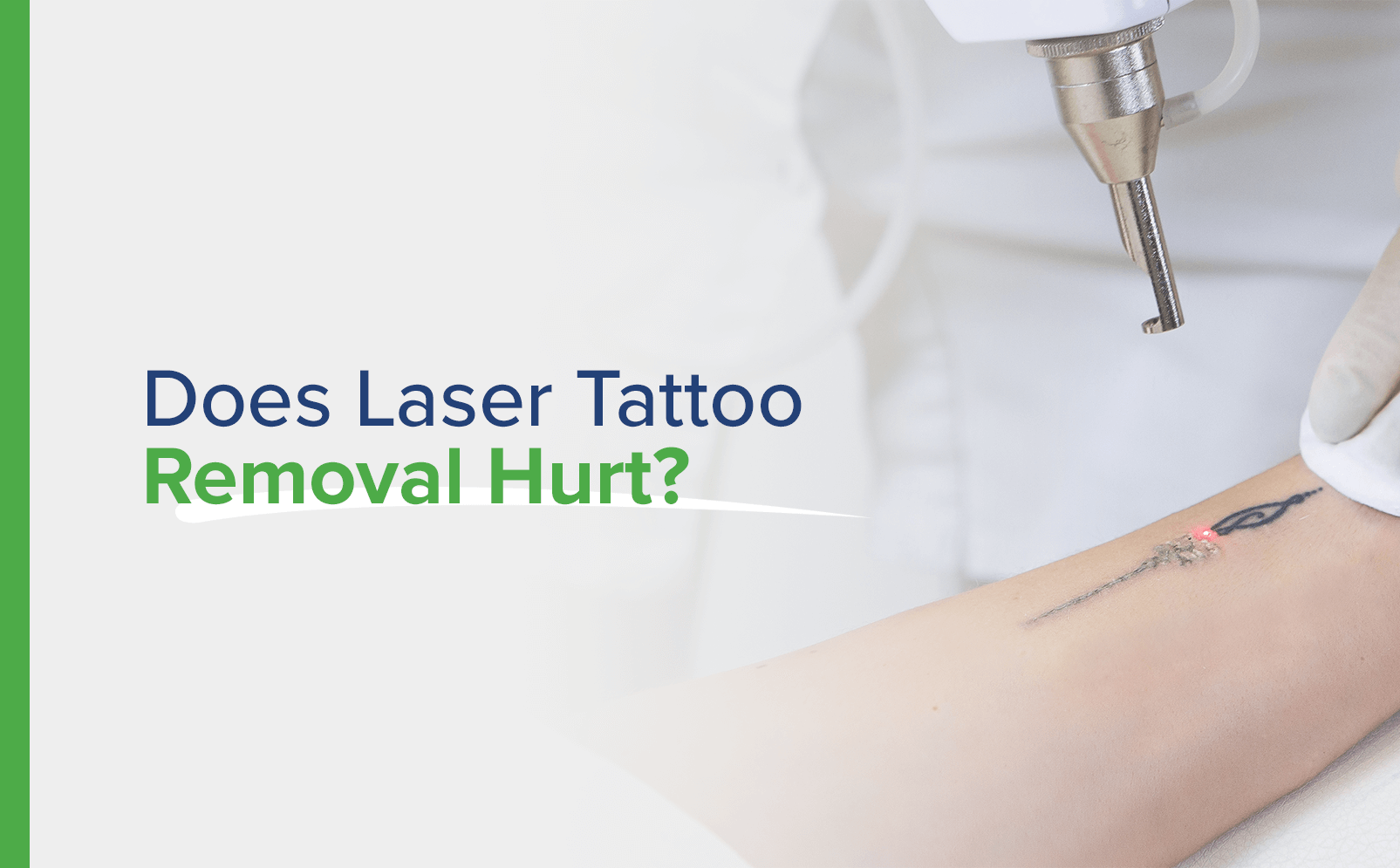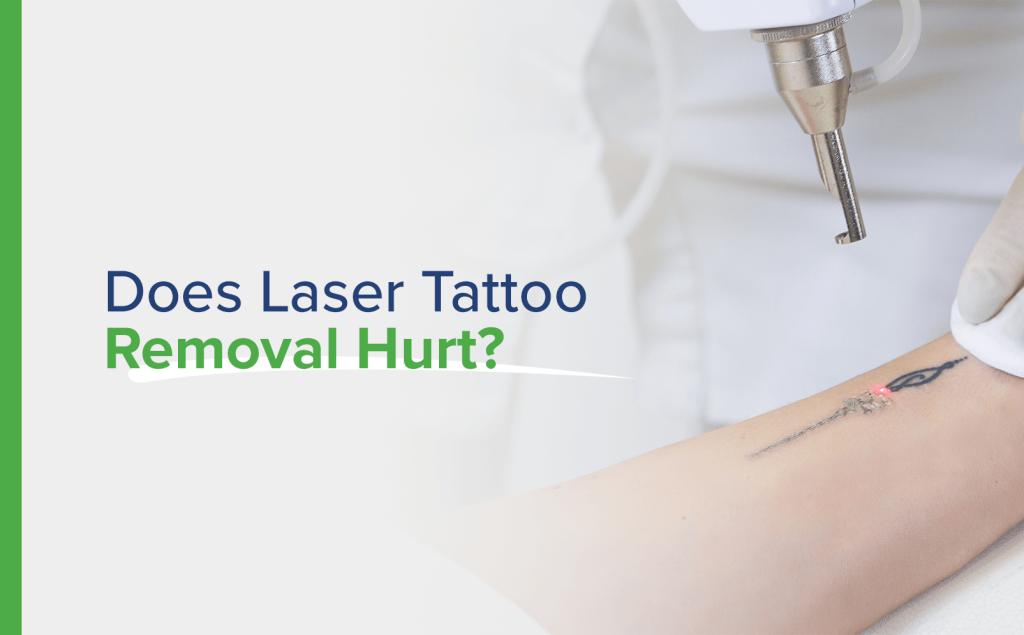 Whether you have a fading tattoo that you don't love anymore or an ex's name in a heart, removing your ink is a great way to heal from tattoo regret and create a blank space for more expression or bring yourself back to an unblemished canvas.
Laser tattoo removal is a popular method for eliminating tattoos, but people often have questions about the experience. Here, you'll find some pain relief tips and what to expect from the removal process.
Is Tattoo Removal Painful?
Whether tattoo removal hurts will vary by person. Your pain tolerance and the area you're removing a tattoo from significantly impact your experience. Some areas of your body are far more sensitive than others, making it more painful to remove a tattoo. If you are not very sensitive to pain, you may have a more comfortable experience than someone with a lower pain threshold.
Laser tattoo removal involves high-intensity laser pulses penetrating the skin to break the pigments into smaller particles, which your body can absorb and metabolize. You typically need to complete multiple sessions to reduce the particle to a small enough size for your body to absorb them. The size of your tattoo and the color vibrancy affect how many sessions you need and if you have a more painful experience.
What Does Laser Tattoo Removal Feel Like?
Tattoo removal damages your skin, but modern methods don't require pain and discomfort. How tattoo removal feels for you will be different from someone else, and there are ways to relieve pain during and after the process.
Treating, stinging, burning and jabbing are popular terms to describe tattoo removal. Some people note sharp sensations like stabbing, deep cramping or aches. Some removal methods feel different than others, creating unique experiences for everyone. Common removal methods and the way they feel include:
High-energy: High-energy laser procedures might feel resemble the feeling of a rubber band snapping on your skin repeatedly. This process can create a bearable but uncomfortable stinging sensation. Other people may find this procedures creates a burning sensation. You can typically receive pain relief creams or medications for treatment. After treatment, you may feel a tight burning on your skin that can feel raw and itchy. Some fluid-filled blisters are common with this method.

Low-energy: People who undergo low-energy treatments may not feel any pain. You might experience discomfort that resembles a blunt fork pressing on your skin. Another standard description is scratching over tender skin, which leads to an uncomfortable sensation. You likely won't need pain relief for this procedure as it doesn't typically result in high pain.
5 Factors That Impact Tattoo Removal Pain
Many things impact your removal experience. From the size or location of the ink to your pain tolerance and more, you are bound to have a unique experience. Here are the most common factors that affect how tattoo removal feels.


Tattoo removal on areas like your feet and hands can feel more painful than on other areas of your body. Similar to getting your tattoo, places with more nerves will be more receptive to pain. The armpit, rib cage, ankles, elbows, kneecaps, fingers and hips are among the most painful places to get and remove a tattoo.
The larger your tattoo is, the more time you'll spend in the chair. Small tattoos can take as little as one minute per session, while larger tattoos require more attention and time. You might find the pain much more bearable when you only have to experience it in small increments and find it more uncomfortable when it takes longer.
As mentioned before, your pain tolerance will impact your experience. Your emotions, body and lifestyle affect your pain threshold, and you likely know where you fall in the sensitive or insensitive range. Removal may be less painful than getting the tattoo, giving you an idea of how you'll feel during the procedure.
Low-energy laser removal is typically less painful than high-energy removal. Additionally, the pain relief you receive for the procedure can make the feeling more bearable.
As with many things, the more often you undergo the procedure, the less pain you'll likely feel. After your first session, you'll know what to expect and be able to provide peace of mind, making the process smoother and less painful.
How to Prevent Laser Tattoo Removal Pain
Although tattoo removal can be unpleasant, there are a few ways to make it a more comfortable experience. Your agency will likely provide some pain relief for your procedure, but there are things you can do at home after the treatment to ease the pain. Follow these tips to prevent and relieve tattoo removal pain:
Ask your agency for numbing cream.

Inquire about lidocaine injections.

Request topical anesthetics from your agency.

Use cold compressors or an ice pack after the procedure.

Squeeze stress balls during removal treatment.
Avoid picking at any scabs that form from the treatment, as doing so can cause pain and impact the healing process and cause visual scarring on the removal area. Reducing sun exposure can also help prevent burning sensations and heighten the healing process while reducing your skin's exposure to sun-related damage. Remember to drink lots of water to boost your immune system and remain hydrated. You can also apply Vitamin E ointments to help repair damaged skin cells after the treatment.
Following these tips — and any guidelines your removal technician provides — may help reduce scarring and the risk of infection.
How Does Synergy Wellness Reduce Tattoo Removal Pain?
Synergy Wellness offers laser tattoo removal in Bakersfield, California. We can typically remove your unwanted ink regardless of your tattoo size, location or color. We value safety and try to ease pain and perform treatments with as little discomfort as possible.
At Synergy Wellness, we use multiple methods to reduce tattoo removal pain. We use Picolazer equipment to offer a non-thermal removal alternative with high-powered short pulses to your skin. This process lets your skin absorb the ink better and helps reach rapid results. We also apply topical numbing creams to the area prior to the treatment so you can feel as comfortable as possible. After treatment, you may experience mild side effects like burning or redness.
Most of our patients require minimal to no downtime after treatment so they can get back on their feet quickly. We typically recommend three sessions for the best results, but you could start seeing results after a single session.
Schedule Laser Tattoo Removal With Synergy Wellness
At Synergy Wellness, we're always ready for every patient. Our highly skilled team always wants to help people find their health and happiness to achieve the body they've always dreamed of. You'll find outstanding care and devoted team members who want you to feel and look your best. If you're looking to make one of your tattoos disappear, we've got you covered.