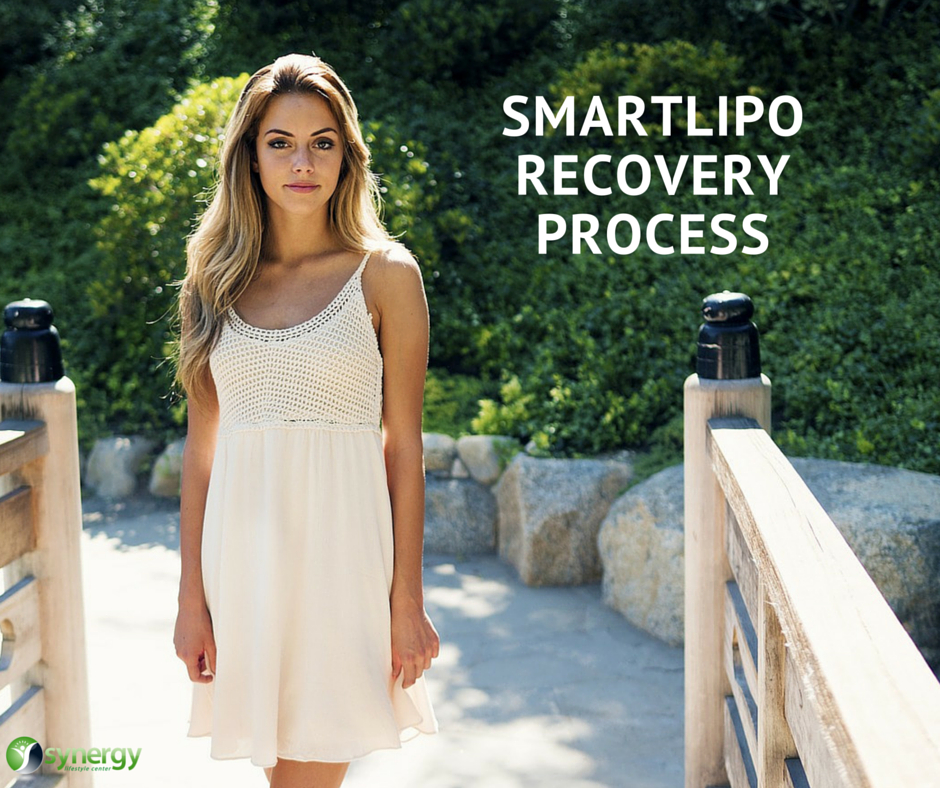 SmartLipo is a minimal invasive fat-reduction technique utilizing laser technology to dissolve fat deposits before suctioning them out with a small cannula. Since the SmartLipo cannula is much smaller than the one used in a surgical liposuction procedure, the incisions needed to insert a SmartLipo cannula into fat deposits are tiny and cause minimal to no scarring. Patients coming to Synergy Wellness Center for a SmartLipo procedure experience minimal discomfort and see noticeable results soon after the procedure*. In addition, the advanced laser technology supporting SmartLipo's effectiveness can be applied to fat deposits affecting the chin, back, arms, abdomen, thighs, buttocks and calves.
When the doctor is finished with a SmartLipo procedure, incisions don't have to be sutured and the patient can go home immediately. Due to the pain medication used before (and during) the procedure, SmartLipo patients should have someone drive them home from our facility.
SmartLipo Recovery Time
Your recovery time depends on the size of the body area treated as well as how much fat needed to be liquefied. Recovery from SmartLipo may take as little as two days or as long as a week*. Your body requires time to recalculate its fluid demands after large volumes of adipose tissue have been removed. Additionally, the disturbance and redistribution of body tissues needs time to heal and adapt to restructuring.
During the first two or three weeks of the SmartLipo recovery process, your physician will want to see you for follow-up examinations to ensure you are healing properly and that results are emerging as expected. Even though you may feel fine, it is important to keep your appointments to avoid possible future issues.
While recovering, treated areas normally exhibit swelling, diminishing lumps, some numbness or tingling and bruising. The intensity of these aftereffects will depend on the extent of your SmartLipo treatment.
SmartLipo Recovery Tips
Follow all your doctor's instructions, get enough rest and avoid heavy physical activity during your SmartLipo recovery time. By allowing your body time to heal well and naturally, you'll enjoy better results and higher satisfaction with those results.
You can start preparing for your recovery before having a SmartLipo treatment by transforming your bedroom into a "recovery room." Assemble things to keep you busy while resting — DVDs, new books downloaded to your Kindle — and stock your kitchen with healthy foods. Drink plenty of water and take any prescriptions your doctor gives you as directed.
Things to Watch for While Recovering from SmartLipo

Complications from SmartLipo rarely occur. However, any time incisions in the skin are made, there is a slight risk for development of a bacterial infection. If you notice any unusual swelling, redness or pain around your incisions, call your physician and tell them about the symptoms as soon as possible.
If you are interested in learning more about the benefits of SmartLipo, call Synergy Wellness Center today to speak to one of our professional staff members.
Learn More About SmartLipo: